Katie E. Holcomb
Associate Attorney
Location: Albuquerque, New Mexico
Phone: 505.242.7070
Fax: 505-242-8707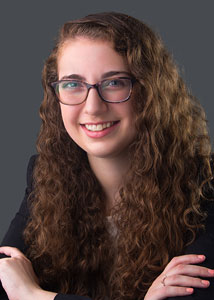 Ms. Katie Holcomb graduated from the University of New Mexico School of Law in May of 2021. While in law school, she was awarded the Clinical Honors Award for the Natural Resources and Environmental Law Clinic and served on the Natural Resources Journal as an Associate and Citations Editor. Ms. Holcomb has previously completed internships for the Department of Interior Solicitor's Office and the New Mexico Department of Health Office of General Counsel. She was also involved in numerous extracurricular organizations, such as the Environmental Law Society, the Natural Resources and Environmental Law Committee, and the Student Animal Legal Defense Fund. Ms. Holcomb became an associate with Alcaraz Law in October 2021 after passing the July 2021 Bar Exam.
Before attending law school, Ms. Holcomb received her Bachelors of Arts in Political Science, summa cum laude, from the University of Akron in 2018. She also previously worked as a research assistant at the Ray C. Bliss Institute of Applied Politics in Akron, Ohio.
Ms. Holcomb was born and raised outside of Pittsburgh, Pennsylvania. In her free time, she enjoys hiking in the foothills, cheering for Pittsburgh sports, and spending time with her cat, Tonks.